2022 Festival
Precincts, Venues & Access
#Festival Precincts
Come for the surprise & delights, see a show and experience the best of Brisbane Festival.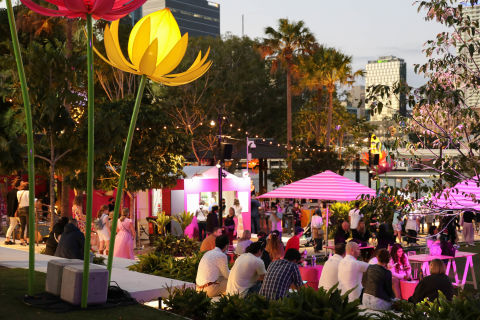 BOQ Festival Garden
The grand entry to Brisbane Festival! An inner-city wonderland of food, wine, entertainment and discovery located in the heart of the South Bank Parklands.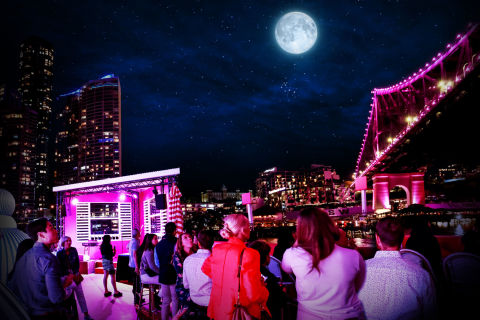 Northshore Brisbane
Brisbane's Northshore will transform into an immersive riverfront hub for Brisbane Festival. As the sun sets, the precinct will be enlivened with live music, a pop-up riverside bar and tasty eats.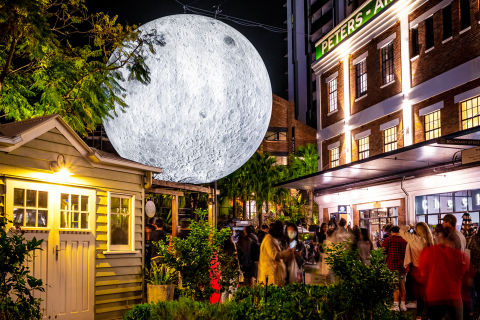 West Village
West End's exciting destination, West Village transforms for Brisbane Festival with art that inspires, delights and disrupts. And there's always something delicious to eat while you're there!
All venues have dedicated seating options for patrons with individual needs and their guests. You can search for accessible shows using the accessibility filters on our What's On page, and the accessibility symbols below also feature in the printed Brisbane Festival program and on event web pages. Some accessibility options may only relate to performances on specific dates, as listed on the event page.
Booking Tickets
Bookings for patrons with individual needs can only be made with venue box office staff over the phone and all necessary information must be provided at the time of booking. Please see the contact phone numbers and opening hours of each venue on their dedicated venue page linked above.
Companion Cards
Brisbane Festival will provide a complimentary ticket to Companion Card holders. The card holder must provide their Companion Card details when making a booking and present a valid ID card at the venue box office when collecting tickets. To book a companion complimentary ticket please call the venue of the event you wish to book for. Details for all venues are listed above.
Wheelchair Access
This venue/location is wheelchair accessible or has been made accessible for the Festival. If this symbol is not displayed, access may be limited. Designated wheelchair spaces will be sold at the lowest price in the house for that performance.
Assistive Listening
This venue/location has an assistive listening system installed for use by patrons. Check with the venue for further details.
Auslan Interpreted
This venue/location is providing Auslan interpreted events for patrons. Check Accessibility on each event page for further details. To book tickets with clear sightlines to Auslan interpreters, please email groups@qpac.com.au or call (07) 3840 7466.
Audio Description
This service allows blind and vision impaired people to enjoy the show by having trained describers capture in live narration the action, costumes, sets, transitions, gestures, facial expressions and lighting or special effects in a performance. This is transmitted via a discreet headset/earpiece worn by the patron.
Open Captioning
Captions will be displayed on a screen enabling the audience to read what is being said. It is always in view and cannot be turned off.
75% Visual Content
This show has minimal dialogue, some background music and/or sounds, and is classified as 75% Visual Content.
100% Visual Content
This show has no music or dialogue and is classified as 100% Visual Content.